Cosily renovated Bella Cottage in the foothills of Orlice Mountains offers year-round and comfortable accomodation in a beautiful and quiet surroudings of the city Žamberk. Cottage has an own terrace with a seating area, whirlpool and infrared sauna suitable for relaxing. The Cottage is also suitable for families wtih children, thanks to an equipped children´s corner and outdoor playground. Parking is reserved in a covered parking lot next to the building.
Bella Cottage has 2 floors. On the ground floor you can find an equipped kitchen with a dinning table, living room with a fireplace, sofa and TV, DVD and CD player, 1 bedroom, bathroom with large shower, laundry and Ski storage. On the upper floor there are 3 bedrooms and bathroom with bathtub. Bottom bathroom is equipped with a massage shower in the garret bathroom is tub for two people.
For your youngest children there are a collapsible cot (including duvet, pillows and childern´s bed linen), folding chair, children´s dining set and cutlery, board games and toys. The Cottage is also equipped with children´s corner. In the garden there are a trampoline with a safety net, a slide, a climbing frame, a sandpit and Russian skittles in the garden.
12 beds + 6 extra beds
2x four-bed rooms
2x double bed rooms
Rooms are equipped LCD TV
Perfect relaxation offer exterior seven-seater heated massage spa with year-round operation. Its location inside a wooden arbour makes it perfect for bathing in any weather. The temperature range of the water in the spa is from 15 to 40 °C, making it suitable for all age categories. The finishing touches to a relaxed atmosphere are provided by built-in night lighting, a champagne cooler and, last but not least, a wonderful view of the town of Žamberk. Each of the seven places in the spa has its own system of adjustable jets. For those special moments, we can also offer you essential oils to turn your bath in the spa into an unforgettable experience.
The whole groundfloor of Chalupa Bella is available for persons on wheelchair except of the shower. There is 12cm high step in the entrance to the shower enclosure. The entrance door are 93cm width, all interior door are 80cm width. The bed clearance is about 100cm. Drive up to the eating table is possible in the whole length of the table. The house entrance from parking place is flat without steps.
In the central room is the modern kitchen. Kitchen is equipped with glass-ceramic cooker, electric oven, dishwasher, refrigerator, microwave, kettle, coffee maker, toaster, stove.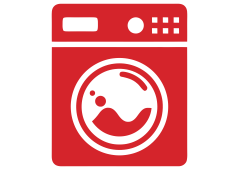 The washing-machine with dryer is available in special room.
Bathrooms and toilets are located on each floor. Bottom bathroom is equipped with a massage shower in the garret bathroom is tub for two people. The bathrooms are at your disposal hairdryers, in case of interest is available iron, ironing board etc.
You can use the Wi-Fi signal to connect to the Internet in the whole building and in the adjacent areas.
ENVIRONMENTALLY FRIENDLY POLICY
The whole object is designed and constructed with strong emphases on the compliance with our conception of high environment protection standards. These include the isolations, building components, instaled austerity measures, chemical and detergent agents so as the system of water and rooms supply heating through out the thermal pump. By all means our effort is strongly focusing on limitation of the negative ecological impact on the environment.
The Cottage has bike room and ski room. In summer is available outdoor stand for bicycles and scooter. The ski-room includes a heated dryer for 16 pairs of ski boots.
In the summer you can enjoy outdoor terrace, complete garden furniture (table, chairs, recliners), gas grill, etc.
Staying with pets is not possible with us.
Chalupa Bella
Na Drahách 325, 564 01 Žamberk
Česká republika
Billing information
Petr Kroul
Hlaváčova 354/69, 614 00 Brno
IN: 662 78 431
TIN: CZ7705173388
NP written since: 28.5.1997
EV-ŽL: 361100-28822-01
Ing. Petra Kroulová
reservation & marketing
t: 
+420 603 571 328
e: 
info@chalupa-bella.cz
Petr Kroul
invoice contact
t: +420 603 491 264
e: petr@kroul.cz
Vladimír Pešek
technical contact - caretaker
t: +420 721 743 311
www.chalupa-bella.cz